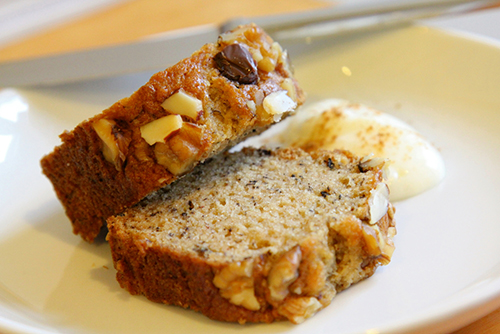 Ingredients
200g self-raising flour
125g butter, room temperature
5-6 pieces ripe bananas
1 ½ cups SIS Raw Sugar
3 eggs
1 tablespoon chopped Walnuts
Pinch of salt
1 teaspoon vanilla essence
4 tablespoons of milk
Method
Preheat the oven to 180°C.
Cut the bananas into chunks and blend until smooth using a food processor.
Cream butter and sugar together.
Add in vanilla essence, bananas, and eggs to the mixture.
Sift in flour to the mixture at intervals and whisk till peak is stiff when lifted.
Add walnuts to the mixture in folding method, mix well.
Pour the mixture in a greased baking tin.
Bake at 170°C for 35-45 minutes or until surface turn golden brown and skewer come out clean from the centre of the cake.
Remove from the oven and leave on the rack to cool for 5-10mins before serving.