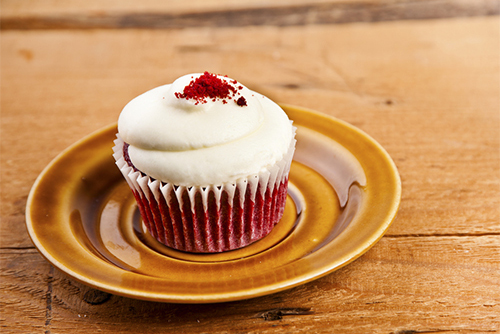 Ingredients
Muffins:

300g plain flour
240g butter, room temperature
300g SIS Caster Sugar
2 eggs
4 tablespoons cocoa powder
½ teaspoon salt
1 ¼ teaspoon baking soda
1 cup of milk
1 teaspoon vanilla essence
1 teaspoon red food colouring

Frosting:

230g cream cheese, room temperature
240g butter, room temperature
300g of SIS Icing Sugar
Method
For muffins:
Preheat the oven to 180°C.
Cream butter and sugar together.
Add cocoa, salt, baking soda and eggs one at a time.
Sift flour and milk at interval.
Add in vanilla essence and Red food colouring to the mixture, mix well.
Line the muffin tray with muffin cups, fill each cup till 2/3 full.
Bake in the oven for 20mins or when you see the muffin rise over the cup and skewer come out clean from the centre of the muffins.
For frosting:
Whisk all the ingredients until smooth and creamy.
Pour the mixture into a piping bag and spread it on top of the muffins.