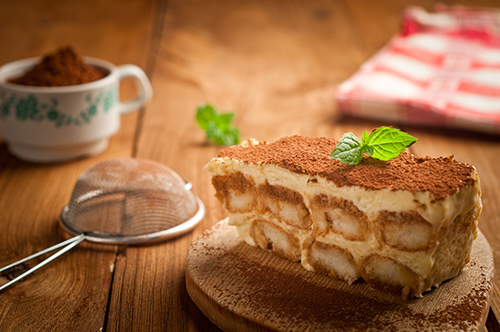 Ingredients
2 eggs, separated
1/4 cup SIS Fine Grain Sugar
2/3 cup milk
1 cup heavy cream
½ teaspoon vanilla essence
250g mascarpone cheese
2-3 cups coffee
2 tablespoons Rum or Kahlua liquor
2 packs of ladyfinger biscuits (Savoiardi)
Unsweetened cocoa powder, for dusting
Method
Mix egg yolks and sugar until mixture is pale and thick.
Add mascarpone cheese to the mixture.
Whisk the cream until stiff peaks holds and fold gently into the egg mixture.
Whisk the egg white to soft peak when lifted and fold gently into the mixture.
Combine coffee and liquor and dip the biscuits until they are nicely soaked and layer on the bottom of dish.
Spread half of the mixture on top of the biscuits.
Repeat for the remaining biscuits and mixture.
Cover and chill in refrigerator for few hours or overnight.
Dust with cocoa powder before serving.