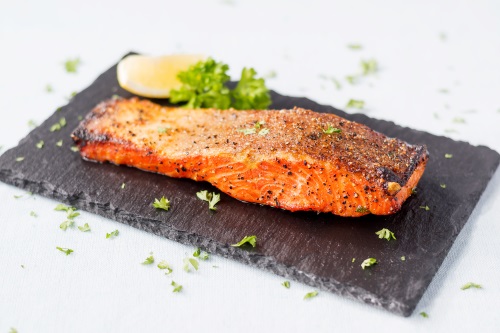 Ingredients
600g salmon with skin, bones removed and cut into fillets
1 tablespoon salt
Dashes of freshly crushed black pepper
¼ cup SIS Fine Grain White Sugar
1 teaspoon of olive oil
Method
Combine the SIS Fine Grain White sugar, salt and black pepper in a shallow bowl. Dip each fillet into bowl and lightly coat the entire surface of the salmon
Heat the olive oil in a large nonstick skillet over medium heat. When the oil is hot, add the salmon fillets, skin side down and sauté for about 5 minutes. Keep the heat not too high to avoid burnt sugar and oil splattering.
Flip each salmon fillets and sauté for another 2-3 minutes.
Preheat the oven to 230°C.
Sprinkle the top of salmon fillets with a teaspoon or two of the sugar/salt mixture.
Transfer the salmon fillets into the oven. Let them bake for  5-10 minutes, check frequently to make sure it is not burning.
When the salmon fillets are done cooking, remove from the oven and allow to cool for few minutes before serving.