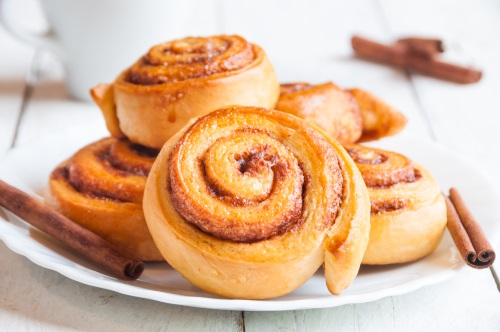 1 hr 30 mins   
 6 pax   

 Normal
Ingredients
3 ¼ cups organic plain flour
½ cup SIS Organic Raw Sugar
1 packet instant yeast (11g)
½ cup butter, room temperature
½ cup milk, room temperature
1 egg
2 tablespoons grounded cinnamon 
½ teaspoon salt
Method
Prepare the bun. In a large mixing bowl, mix 2 ¼ cup flour, SIS Organic Raw Sugar, yeast and salt until combined.
Add milk and egg and mix well. Add in remaining flour at interval. Knead until it forms a smooth and elastic dough.
Place the dough a greased bowl, cover with a damp cloth and leave to rise until doubled for about 10-15 minutes.
On a working surface dusted with flour, roll out the dough into a rectangle about 3mm thick.
Prepare the filing. Mix the grounded cinnamon and SIS Organic Raw Sugar.
Spread melted butter and sprinkle cinnamon sugar mixture evenly over the dough.
Roll up dough and pinch the edges to seal.
Cut into equal slices about 1-1½ inch thick. Place slices on the side in a baking tray with lined with baking paper.
Cover with a damp cloth and let it rise until doubled for 30 minutes.
Preheat oven at 190°C and bake for 25-30 minutes or until slightly golden brown.
Remove from the oven to cool before serving.