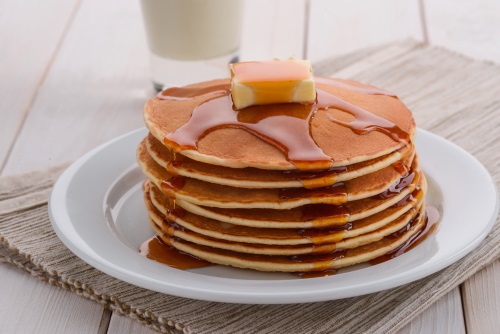 25 mins  
 4 pax   

 Easy
Ingredients
2 cup plain flour
2 tablespoon SIS Coarse Grain Sugar
3 tablespoon butter, melted
2 teaspoon baking powder
250ml milk
2 eggs
1 teaspoon salt
½ teaspoon vanilla essence
Method
In a large bowl, mix flour, baking powder, SIS Coarse Grain Sugar and salt.
In a separate bowl, whisk eggs, milk and vanilla essence until combined.
Combine the egg mixture and flour mixture. Add a tablespoon of butter, mix until no lumps are seen.
Heat a non-stick frying pan and grease with butter over low-medium heat.
Scoop the batter using a ladle and pour slowly into the pan. Shape with back of ladle into the perfect round shapes. Flip when edges are set and bubbles seen on the top.
Cook the other side for another 2-3 minutes or lightly brown. Repeat until all the batter is used.
Serve with maple syrup or Whipped Cream.